Terrasym® 401+DUST™ for Soybeans is designed to improve seed lubrication and seed flow during planting and deliver improved nutrient uptake leading to robust early-season root development, enhanced tolerance of abiotic stress (drought or extreme temperatures) throughout the growing season, and higher yields at harvest.
Terrasym® 401 + DUST™ for Soybeans contains a unique strain of beneficial microbes specially selected for soybeans. As a broad, season-long colonizer, Terrasym 401+DUST PPFMs spread from the seed surface across a plant's roots and leaves. PPFMs improve nutrient uptake by populating plant roots, promoting higher numbers of root tips and overall mass. 
Increased yield - PPFM colonization throughout the growing season and increased nutrient uptake result in increased chlorophyll content and enhanced photosynthetic efficiency, both of which contribute to increases in yield.  
Better seed spacing - DUST seed lubricant creates better flow properties than talc or graphite improving meter singulation and plant spacing
Healthier to use - insecticide-free and carcinogen-free, reducing health risks of the farmer and environment. Promotes healthier environment for important pollinators. 
Better roots - shows enhanced development of soybean root area by +2.9%, rooting depth by +5.6% and root tips by +2.4%. 
Your Checkoff dollars at work - DUST product is supported by the United Soybean Board and made from 100% U.S. soybeans with the support of farmers' Soy Checkoff Dollars.
Timing flexibility - 120-days on-the-seed stability when applied as a pro-box application. 
Available as a Planter Box (PB) or Pro-Box application dry product. 
Application Instructions

Planter Box: 0.5 oz. of product per 1 unit (bag) of soybeans

Sprinkle over the top of the seed in the planter box. Do not dump product in one place but distribute evenly over the top of the seed. Usage rates may vary by planter type and size.

Packaging: Quantity of 8 individual 40-unit packets per case. Each case treats 320 units (bags).

Refer to the product label below for more detailed instructions.
$6.00/unit
Quantity will be calculated based on the expected acres to be treated below. Soybeans based on 140,000 seeds per acre and corn is based on 34,000 seeds per acre.
Share
View full details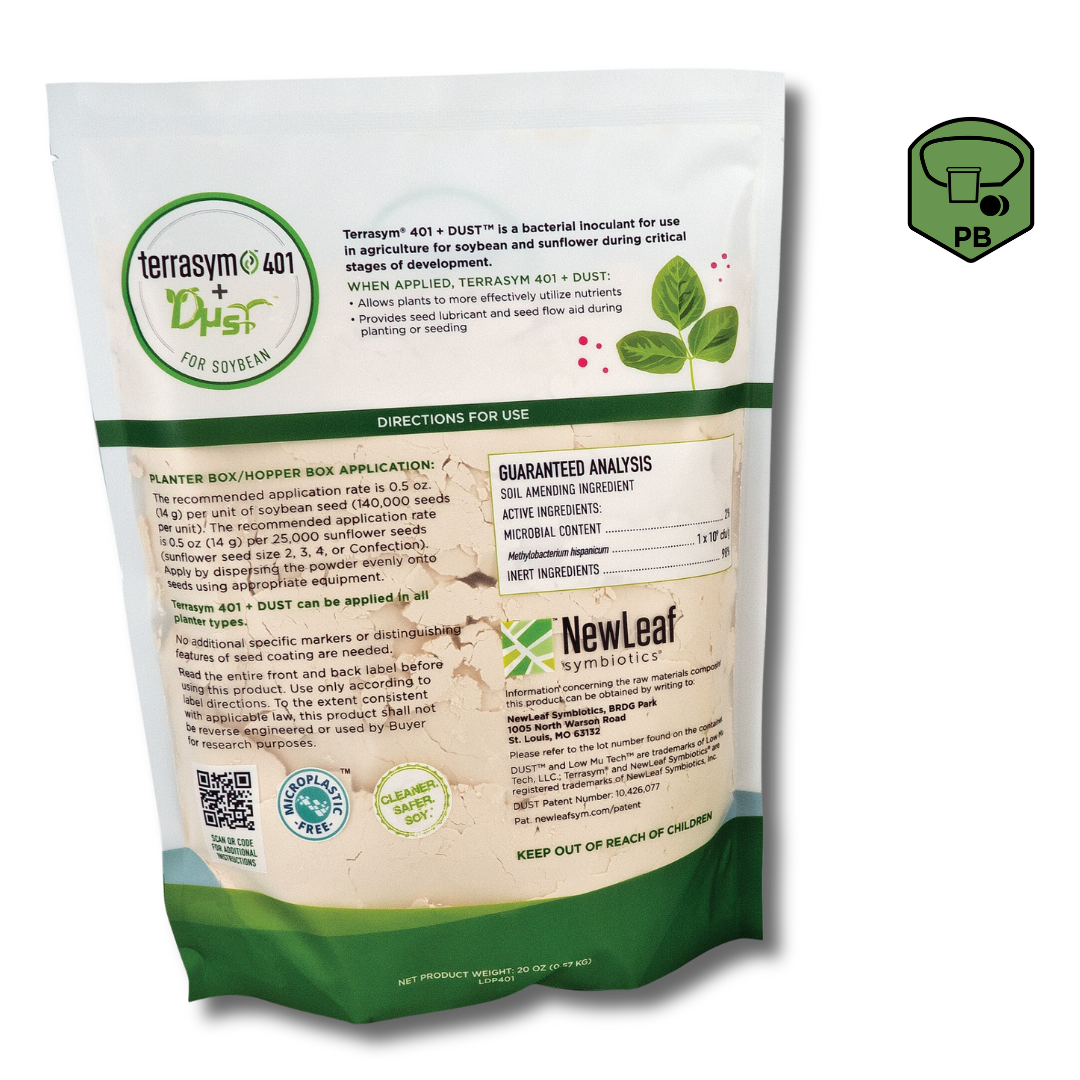 -------Other Proven Solutions To Consider-------
What Farmers are Saying About NewFields Ag: